Vijaya FM Listen Online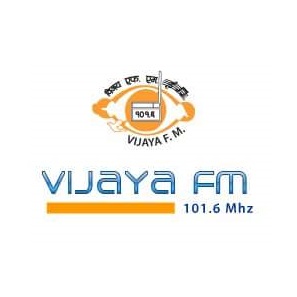 Community Radio Vijaya FM 101.6
Gaindakot-8, Nawalparasi,
Phone: 078-501403 (News), 078-501404 & 078-501405 (Reception), 078-501406 (Studio)
Fax: 078-501407,
Email Addresses:
For Admin. : info@vijayafm.org.np
For News : vijayafm101.6@gmail.com, news@vijayafm.org.np
For Marketing : info@vijayafm.org.np
Web site: www.vijayafm.org.np
Vijaya Community Information & communication Cooperative Ltd (VICCOL) was established in 2000 in Gaindakot, Nawalparasi. It established Vijaya FM and first aired on 21st August 2004 and tuned into 101.6 MHz. Community Radio Vijaya FM is the common endeavor of peoples from different socio-economic background (i.e. experts, community members, and professionals), non-government organizations, community forest user groups, schools, colleges, hospitals, cooperatives, temples and other social institutions.
Vijaya Fm is the first community radio of Nawalparasi district & even in mid Nepal
Vijaya FM has 1000-Watts Transmission Capacity with all necessary modern equipments and has been airing the programme. Currently we are receiving the phone and letters from 21 district of Mid Nepal like Nawalparasi, Chitwan, Tanahun, Bara, Parsa, Lamjung, Syanja, Gorkha, Makwanpur, Dhading, Nuwakot, Parbat, Baglung, Palpa, Gulmi, Kapilvastu and Rupendehi etc.
Vijaya FM 101.6 is run by Vijaya Community Information and Communication Cooperative Society Limited (VICCOL), which is a primary level cooperative society, registered under the district cooperative office Nawalparasi in 2001. The community based Vijaya F.M. will help to uplift the quality of life of the poor and marginalized people by providing valuable information regarding human rights, livelihood, community self-reliance, good governance and people participation in decision-making process that affects their daily life.
It got the license to establish the FM radio from Ministry of Information and Communication on 17August 2003, VICCOL established a community radio station and started to broadcast from 21st August 2004. The radio station, the first such station in Nawalparasi district is set up in Gaindakot VDC.
VICCOL has 276 shareholders including NGOs, cooperatives, community-forestry user groups and the individual members of the society are from different background like social activists, farmers, teachers, women, Dalit etc. It follows the cooperative principles and works for the social justice. A general assembly is the supreme body of VICCOL which elects eleven executive committee members including president and a three-member account / supervisory committee for three years. VICCOL has the provision of building another committee of radio program monitoring and supervision includes seven–members from among its members and community representatives. It has its own constitution and can prepare rules and regulation as per need under the cooperative act.