Radio Sky Gulmi – FM 90.4 Mhz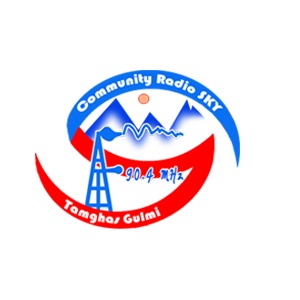 Community Radio SKY FM Online – रेडियो स्काई एफ.एम 
Buspark Tamghas Gulmi, Nepal
Phone: 079 520740, 520741
Email: skyfmgulmi@gmail.com
Website: www.skyfm.org.np
Radio Sky Gulmi is the first community radio of Gulmi district. It was established in 2067 BS with the main aim of broadcasting community news, events, musics and live programmes. It is broadcasted in 90.4 mhz radio wave. The station is based on Tamghas, Gulmi. It can be listened through www.livefms.com and many other websites and mobile application.
This radio has its radio tower in Arjun Danda and has studio in Tamghas Bazar. It begun its broadcasting through 100 watt tower and now its broadcasting with 500 watt capacity.
Search Tags: sky fm 90.4, sky fm live, www.sky fm.com, listen radio sky, sky fm samachar, sky fm news, sky fm.com, nepali radio sky fm, sky fm 884, online sky fm, live sky fm, nepali radio, sky fm online, www.sky fm, nepali fm sky, listen to sky fm online, sky gulmi, tamghas
The district government offices are in Tamghas, a small town situated at the bottom of two hills, Resunga and Arjun. Historically Tamghas was the first municipality established in Gulmi. Currently there are ten rural municipalities, plus the two municipalities of Resunga and Musikot.