Radio Safalta FM Listen Online
Radio Safalta, an independent fm radio station based in touristic city Pokhara, now broadcast 18 hours a day.
Established in 2010, is popular for its prompt news and current affairs programmes and it includes local varieties of society, business and economics, sports, agriculture, health, environment, entertainment as well as other community activities.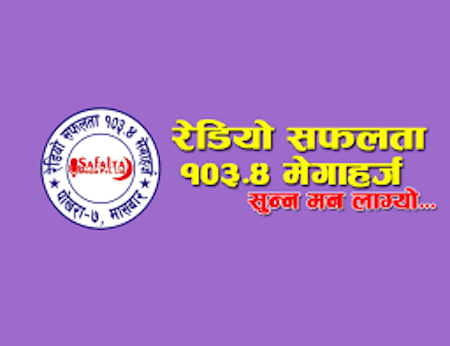 The target audience for station is urban elite listeners to the rural people as well as youths, women's and children's across Kaski, Syangja, Tanahu and Lamjung Districts.
Pokhara is known to be a popular tourist destination for visitors from all over the world. Every year, many people visit the location in order to travel to the Annapurna range and famous religious place Muktinath. The tourist district is along the north shore of the Phewa lake (Baidam, Lakeside, and Damside). It is mainly made up of small shops, non-star tourist hotels, restaurants, and bars.
Pokhara is in the northwestern corner of the Pokhara Valley, which is a widening of the Seti Gandaki valley that lies in the region (Pahad) of the Himalayas. In this region the mountains rise very quickly, and within 30 kilometres (19 miles), the elevation rises from 1,000 to 7,500 metres (3,300 to 24,600 feet).
Safalta FM 103.4 MHz
Masbar -7, Pokhara, Nepal
Email: radiosafalta@gmail.com
Phone: +977-61-462966, 465966
Fax: +977-61-462966
Website: www.radiosafalta.com