Radio Marsyangdi Listen Online
Community Radio Marsyangdi 95 Mhz promotes the voice of the local community through interactive communication and is committed to giving its audience a feeling of ownership.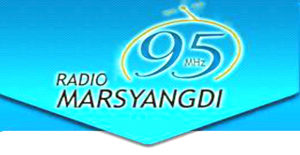 It broadcasts community sensitive programmes based on public interest and demand, and broadcasts news, entertainment, educational programmes and interactive programmes.
Radio Marsyangdi was started by a group of young and committed campaigners in Lamjung at the end of 2006 (2063). Many meetings and interactions were held to conceptualize the radio's mission and objectives, involving different stakeholders and hundreds of people in and around Lamjung.
Community Radio Marsyangdi began its broadcasting (on-air) on the 14th April 2007 (on the auspicious occasion of Nepali New Year's day, the 1st Baishakh 2064). The radio started its broadcasting for 4 hours daily, from a temporary studio.
Listeners' participation is continuously increasing and the radio is becoming more and more popular. Today the radio is transmitting for 17 hours daily, from 5.30am to 10.30pm. Our offices are now in Tamu Sangralaya , Besishahar- 2, Lamjung, with two professional studios for broadcasting. The radio broadcasts 7 local news bulletins with Gurung and Tamang language, and more than 70 radio programmes focusing on informative programmes, interviews, talk shows, a radio magazine and musical/entertainment programmes.
To cover both national and international news this radio is coordinating with Community Network Information (CIN), the BBC, Ujyalo 90 Network, Antenna Foundation Nepal and Equal Access.
Community Radio Marsyangdi 95 MHz
Besishahar-2, Tamu sangralaya, Lamjung
Tel. +977 066 520547/520020/521220
Email: radiomarsyangdi95@gmail.com
Website: www.radiomarsyang.org