Radio Malmala FM Listen Online
Radio Malmala 88.6 MHz is the leading private radio station in town. It has been airing since 28th Asar, 2069 B.S. under the name of malmala media Pvt Ltd.

It is totally committed to contribute in the development of nation's mass media. It on airs various shows everyday with regular schedule of 18 hours all dedicated to different age group listeners.
It intends to provide 100% satisfaction to its beloved listeners and well wishers. With it's 500 watts transmiter Radio Malmala 88.6 MHz reaches throughout the Rupandehi district and other parts like Kapilvastu, Nawalparasi, Arghakhanchi, Palpa, Chitwan, Gulmi, Dang and boarder areas of India etc.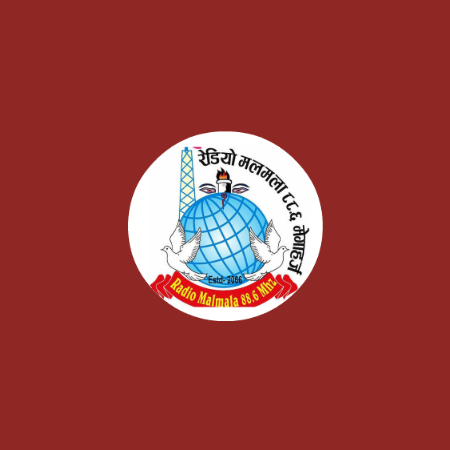 In addition it is streaming live all around the world 24 hour via www.radiomalmala.org. Every shows are tailored with the specific needs of listeners in mind. It broadcast the most reliable and quickest news bulletin every hour regarding current affairs and facts.
To become the best form of media house it alwayas welcomes your honourable suggestions. Murgiya is a town in Sainamaina Municipality 3 & 4, Rupandehi District, Nepal. It is one of the leading town in Rupandehi District. Many people of different castes, cultures and religions live here. Being one of the most developed area on Sainamaina Municipalities,there are a lots of different types of shops which makes it as a Main Market of Sainamaina as well.
Radio Malmala 88.6 MHz – रेडियो मलमला एफ.एम – मुर्गिया
Sainamaina-4, Murgiya, Rupandehi.
Phone: 071-440445, 440368
Email: malmalanews@gmail.com
Website: www.radiomalmala.org