Radio Didi Bahini Listen Online
Radio Didi Bahini is the community radio run merely by the women which is broadcasted in 95.02 MHg from Parbat district. Though this radio has been entirely managed and operated by the women, there is a desirable contribution of the male members of the society when deemed necessary.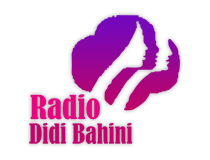 The radio aims to enhance the capacity of the women, especially the disadvantaged group, through empowerment by ensuring their meaningful participation in the radio activities. We also aim to provide the information and communication related materials along with the resources linked with entertainment to the people of this area. The operation of this radio has been one of the innovations in the sector of communication in this geographical area, being managed and operated by women.

Radio Didi Bahini is a radio service that offers a third form of radio broadcasting beyond commercial and public service. We have been serving specific geographic communities and communities of interest, broadcast content that is popular and relevant to a local/specific audience but which may often be overlooked by commercial or mass-media broadcasters.
We believe that community radio works in the cultural context of the community it serves. It deals with the local issues in the local dialects and activities are related to the local problems. As elsewhere, Radio Didi Bahini is operated, owned, and driven by the communities we serve and are not-for profit organization as well as provide a mechanism for facilitating individuals, groups, and communities to tell their own diverse stories, to share experiences, and in a media rich world, to become active creators and contributors of media.
Radio Didi Bahini 95.2 MHz
Kushma, Parbat, Nepal
Tel: +977-67-421198,421199
E-Mail :news@radiodidibahini.org
Website :www.radiodidibahini.org
Search tags: radio didibahini, listen radio didi bahini, parbat radio, listen live nepali radio, radio didibahini live, online nepali radio, radio didibahini listen live