Listen Radio Barahi Online
Radio Barahi 99.2 Mhz was established by Barahi Prasharan P.Ltd having the capacity of one thousand watt with a common initiation of the youth involved in business sector since the early age and visionary experience mediaperson; the radio was born.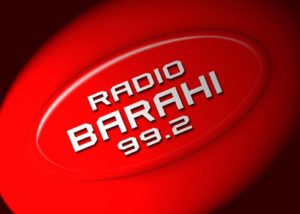 • Radio Barahi 99.2 MHz would like to introduce itself as a broadcasting station of Western Nepal. In our Short period of transmission we are able to create an image of more effective media in this region and covers more than 30 districts of Western region, mid western and mid region also.
• Radio station in Rastrabank Chowk Pokhara and using well equipped latest radio broadcast technology of the world.
• We have got well experienced staffs in our different department working as a professionals in the field more than 10 years and have good fan following, due to their experience implementation of plans, programs and News are more effective.
• 1 Kilowatt (1000 watt) power
• Can reach 60/65 kilometres far (theoretical) from "broadcasting place"
• Full coverage (kaski, tanahu, lamjung, syangja, gorkha, parbat)
• Partial coverage (Baglung, Myagdi, Dhading, Chitwan, Nawalparasi, Makwanpur, Gulmi, Arghakhachi, Palpa)
• Approx 3. million people are reachable
• Daily 1000 above listeners are actively participating Email, Online-chatting, letters, phone-ins, SMS, Social Networking, Online Radio.
Monthly SMS Flow – Above 30000 SMS per Month
Duration of Broadcast- 5:00 AM to 11:00 PM (18hrs)
Radio Barahi
Rastrabank chowk
Pokhara, Nepal
Phone: 061463222
Email: barahinews@gmail.com
Website: www.radiobarahi.com