Listen Big FM Online
Big Fm is established by the PBC, Pokhara Broadcasting Company started is broadcasting in March 2009. It broadcast under the frequency of 101.2 Mhz.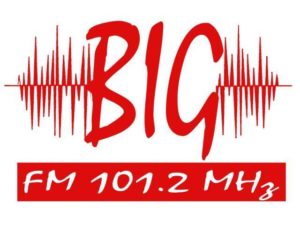 Its states in its website that its vision is to become the best and unique entertainer and a credible media for quality information.
The objectives are to provide credible and quality news and entertainment, to promote Nepali music,
to give the ultimate platform for the talents (i.e. Music, Literature or any creative and innovative idea), to provide the best medium for advertisers and to institutionalize the Entertainment Journalism in Radio.
This radio targets its market to urban, semi Urban areas such as Pokhara, Lekhnath, Hemja, Damauli, Dulegauda, Khairinitar, Dumre, Gorkha Bazar, Kushma. Likewise it also aims to rural areas such as VDCs and villages of more than a dozen districts around Kaski.
Target Coverage
Kaski, Tanahu, Syangja, Lamjung, Gorkha, Parbat, Baglung and Prithvi Highway
Coverage Area
Fully (Kaski, Tanahun, Gorkha, Lamjung, Syangja, Parbat)
Partially (Baglung, Myggdi, Manang, Dhading, Chitawan, Rasuwa, Nuwakot, Kapilvastu, Nawalparasi, Gulmi, Arghakhanchi, Palpa etc)
Program Types
News Bulletins (Informative)
Interviews (Interactive)
Radio Drama (Educative, Persuasive)
Reality Shows (Competitions)
Musical (Full Entertainment)
Live Shows (Indoor, Outdoor)
Mixed (info-mercial, Info-tainment, Info-edu-tainment) etc
Broadcasting
19 Hrs (05.00 to 12.00 midnight
Big FM Online – 
Pokhara Broadcasting Company Pvt. Ltd
P.O. Box: 525
Address: New Road, Pokhara, Nepal
Phone: +977 – 61 – 535063 / 64 / 65 / 66
Email: info@fmbig.com, news@fmbig.com
Website: www.fmbig.com