BFM 91.2 Listen Online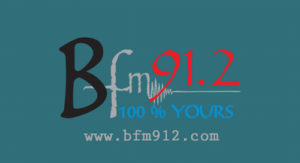 BFM 91.2 is Biratnagar based radio station run under Birat Shree Media Network Pvt. Ltd which was registered in the Company Registrar Office on 29th Ashar 2063 and obtained license No. FM 123/063/064 to run a radio station of 500 watt capacity on the 91.2 MHz frequency from the Ministry of Information and Communication on 6th Bhadra 2063.

The Management Committee of BFM 91.2 comprises of Dr. Gyanendra Man Singh Karki as Chairman, Mr. Indra Khatri (Rajan) as Director and Mr. Sandesh Dass Shrestha as Executive Director.
BFM started its test transmission from 9th Magh 2063 (23rd January 2007) and started its 18 hour regular transmission from 1st Baishak 2064.
BFM 91.2 is a 100% YOURS local station having the slogan "SUNDAI JAUN, SUNAUDAI JAUN"(Lets Listen, Lets Make Others Listen) that supplies daily dose of information, infotainment and entertainment.
We are currently on air for 18 hours daily (5am-11pm) with transmission capacity of 500 watts using state – of – the – art digital equipments having broadcasting reach all over East Nepal and covering major commercial centers like Biratnagar, Dharan, Itahari, Ilam bazaar, Rajbiraj, Inaruwa and Urlabari along with major parts of the district of Taplejung ,Panchthar, Ilam ,Jhapa, Sankhuwasava, Tehrathum, Dhankuta , Sunsari, Morang, Solukhumbu, Khotang, Bhojpur ,Udaypur and Saptari.
Our programs are a blend of socio-cultural information and current affairs especially targeted towards listeners' choice of East Nepal in particular encompassing a wide variety of national issues in general. We broadcast programs in various regional languages such as Maithili, Magahi, Tharu, Limbu and Sherpa.
Currently, we are broadcasting 7 news bulletins at 6am, 9am, 11am, 2pm, 4pm, 6pm and 10pm. We have focused our news mainly on reporting the events of east Nepal with news of national interests also. We are also the rebroadcast partners of BBC Nepali Service news and also are associated with BBC World Service Trust, Equal Access as Broadcast partners.
The Program Department is coordinated by Ms. Nisha Dahal, Technical Department is coordinated by Mr. Dipendra Thapa and News Department is coordinated by Mr. Bhakta Rai.
BFM Online – बि एफ.एम बिराटनगर
Birat Shree Media Network Pvt. Ltd.
P.O.Box : 204, Shanti Chowk, Biratnagar-7, Morang
Phone : 021-533471
Fax : 021-532508
Email : bfm912.brt@gmail.com
Website: www.bfm912.com